"The brilliant website communityplanning.net sets out clear advice on a whole range of ways you can get people involved - using everything from models, to photos, to computer maps to show what development could look like."

Rt Hon Hazel Blears MP,
Secretary of State for Communities and Local Government 2007 - 2009
25 March 2008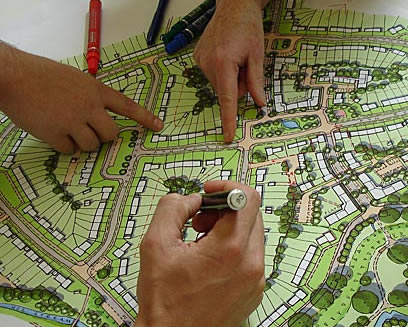 Hands on planning

Woking Community Planning Weekend, 2007, John Thompson & Partners.
"If you want to know how the shoe fits, ask the person who is wearing it, not the one who made it."
All over the world there is increasing demand from all sides for more local involvement in the planning and management of the environment. It is widely recognised that this is the only way that people will get the surroundings they want. And it is now seen as the best way of ensuring that communities become safer, stronger, wealthier and more sustainable.

But how should it be done? How can local people – wherever they live – best involve themselves in the complexities of architecture, planning and urban design? How can professionals best build on local knowledge and resources?

Over the past few decades, a wide range of methods has been pioneered in different countries. They include new ways of people interacting, new types of event, new types of organisation, new services and new support frameworks.

This website provides an overview of these new methods of community planning. It is aimed at everyone concerned with the built environment. Jargon is avoided and material is presented in a universally applicable, how-to-do-it style. Whether you are a resident wanting to improve the place where you live, a policy maker interested in improving general practice, or a development professional working on a specific project, you should quickly be able to find what you need.

The methods described here can each be effective in their own right. But it is when they are combined together creatively that community planning becomes a truly powerful force for positive and sustainable change. Just a few of the many possibilities are featured in the scenarios section towards the end of the website.

In years to come it is possible to imagine that every human settlement will have its own architecture centre and neighbourhood planning offices; that all development professionals will be equipped to organise ideas competitions and planning weekends; that everyone will have access to planning aid and feasibility funds; that all architecture schools will have urban design studios helping surrounding communities; and that everyone will be familiar with design workshops, mapping, participatory editing, interactive displays and other methods described here.

When that happens, there will be more chance of being able to create and maintain built environments that satisfy both individual and community needs, and that are enjoyable to live and work in.

In the meantime the art of community planning is evolving rapidly. Methods continue to be refined and new ones invented. There is a growing network of experienced practitioners. This website will hopefully help with the evolution of community planning by allowing people to benefit from the experience gained so far and by facilitating international exchange of good practice.

When people are involved in shaping their local surroundings, the benefits can include:
Additional Resources
Governments rarely have sufficient means to solve all the problems in an area. Local people can bring additional resources which are often essential if their needs are to be met and dreams fulfilled.
Better Decisions
Local people are invariably the best source of knowledge and wisdom about their surroundings. Better decision-making results if this is harnessed.
Building community
The process of working together and achieving things together creates a sense of community.
Compliance with legislation
Community involvement is often, and increasingly, a statutory requirement.
Democratic credibility
Community involvement in planning accords with people¹s right to participate in decisions that affect their lives. It is an important part of the trend towards democratisation of all aspects of society.
Easier fundraising
Many grant-making organisations prefer, or even require, community
involvement to have occurred before handing out financial assistance.
Empowerment
Involvement builds local people¹s confidence, capabilities, skills and ability to co-operate. This enables them to tackle other challenges, both individually and collectively
More appropriate results
Design solutions are more likely to be in tune with what is needed and wanted. Involvement allows proposals to be tested and refined before adoption, resulting in better use of resources.
Professional education
Working closely with local people helps professionals gain a greater insight into the communities they seek to serve. So they work more effectively and produce better results.
Responsive environment
The environment can more easily be constantly tuned and refined to cater for people¹s changing requirements.
Satisfying public demand
People want to be involved in shaping their environment and mostly seem to enjoy it.
Speedier development
People gain a better understanding of the options realistically available and are likely to start thinking positively rather than negatively. Time-wasting conflicts can often be avoided.
Sustainability
People feel more attached to an environment they have helped create. They will therefore manage and maintain it better, reducing the likelihood of vandalism, neglect and subsequent need for costly replacement.