Solutions and Strategies for Meeting the World's Needs: 2005–2012 Labs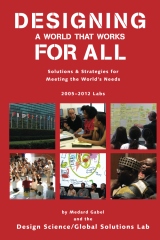 The 2005-2012 Design Science Lab Book is now available.

View Online
Download the PDF here.

(39 MB)


The 2005, 2006, and 2007 Design Science Labs were held at the UN and the UN International School in New York City. The 2008-2012 Labs have been held at the UN and Chestnut Hill College in Philadelphia.
PREVIOUS DESIGN SCIENCE LABS
2008 Design Science Lab Report
If you would like to purchase a hard copy of this report, click here.
If you would like to download the 2008 Design Science Lab Report click here.

(1.7 MB)




2007 Design Science Lab Report
If you would like to purchase a hard copy of this report, click here.
If you would like to download the 2007 Design Science Lab Report click here.

(2.7 MB)




2006 Design Science Lab Report
If you would like to purchase a hard copy of this report, click here.
If you would like to download the 2006 Design Science Lab Report click here.

(1.9 MB)




2005 Design Science Lab Report
If you would like to purchase a hard copy of this report, click here.
If you would like to download the 2005 Design Science Lab Report click here.

(1.8 MB)
Source:
http://designsciencelab.com/book/