Link: https://www.confluence.auroville.org
WHY REIMAGINING?
The Fire of Evolution
In a world of accelerating technological evolution individuals and collectives are increasingly under pressure to evolve and adapt. Education is no more limited to children and youth but has become a lifelong process for everyone to remain relevant in a rapidly changing world. Such a learning, naturally, must be self-driven and this is possible only when the evolutionary fire within each individual is kindled. The present education system cast in the mould of industrial mass production methods ignores the true individual. Discovering the evolutionary fire within demands a radical re-imagination of the present education in its totality.
Learning Society
If education is to continue throughout life, then all activities and institutions of life must be consciously recognised and reorganised as contexts for learning. This demand us to reimagine the very notion of university if it is to embrace all contexts of human life from birth to death. It has to be a learning society that is at once a university as well as a city where the full complexity of human life is experimented upon in live-in laboratories. All social institutions and process, from science to technology, from arts to culture, from governance to economy, from families to workplaces, from birth to death, are to be reimagined into living laboratories to give birth to a new society, a new humanity.
Auroville
Auroville is a bold step in this direction, a prototype in the making, a live-in laboratory of transformational learning and research. According to the Auroville Charter: Auroville will be the place of an unending education, of constant progress, and a youth that never ages. Auroville will be a site of material and spiritual researches for a living embodiment of an actual human unity. Even after 50 years, children of Auroville are still going out after their schooling for higher education. At the same time, thousands of interns, volunteers & researchers who come to Auroville rarely touch the deeper dimension of Auroville. This brings into focus the need to organise higher education opportunities within Auroville.
How Does Learning Happen in Auroville?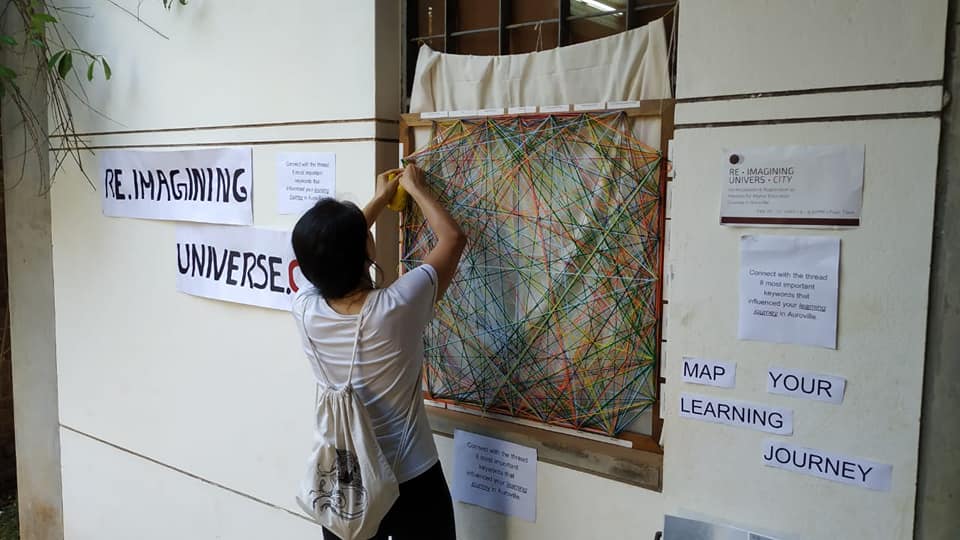 ---
Auroville Campus Initiative, as a follow up to the Confluence (https://confluence.auroville.org) set-up a co-creative art installation on Re-imagining Auroville as a Univers-city. It was setup this year around Auroville's birthday outside Pour Tous, our collective cooperative. On the art installation, more than a 100 Aurovilians mapped their learning journeys through knitting threads that they used to connect the most unique aspects of their learning journey in Auroville. Each one chose 8 keywords out of 28 keywords to represent their learning journey.
The 28 keywords were derived from several community gatherings (including the Confluence & the Bridge), core documents of Auroville as well as semiotics research by Aiyana Gunjan on Auroville's culture.*
The installation was set-up in front of Pour Tous (PTDC) in Auroville on Feb 26 and Feb 27, 2020.The installation gave a glimpse of how learning happens in Auroville. It is often difficult to see how learning takes place for an outsider, since there are no degrees, titles and positions here! However, when we starting making the invisible factors visible, acknowledging them, verbalising them, it becomes apparent that the process of learning in Auroville is very real and it is indeed an educational Campus!
During the installation, we also took sign-ups from Aurovilians who said they would be interested in mentoring students interested in long-term serious study. Some said they would be interested in mentoring students about a specific skill or domain knowledge-base; others said they would be interested in mentoring about life in general; and yet a few more said they would be interested in mentoring in both areas - life in Auroville & a subject/domain.
If you are an Aurovilian interested in signing up to be a mentor, please take 30 seconds to fill the following form: https://forms.gle/9peDRhZLBj8AvMwg8
Please note that this is only an initial sign-up sheet. As a follow-up, we will be sharing a Google form over mail, that will allow Aurovilians to fill more details about - their profiles, their expectations from students, their availability etc. We may also have a follow-up in the form of a presentation/workshop to this.
Now, let us explore a little bit of our findings from the co-creative art installation! It was actually also a mini-research project, for it revealed the most significant contributors to our learning in Auroville as well as the least significant. The top three clusters of the most significant contributors to our learning in Auroville were found to be:
1.
The Inner Work:
Silence, Intuition, Aspiration, Self-discovery
2.
The Outer Work
Learning by Doing, Experimentation
3.
The City:
Nature, Beauty, Matrimandir
Perhaps it only reveals the areas where we intuitively already know. Cheers!
Appendix
Here are 28 of the infinite aspects that enable learning in Auroville.
1. Cultural Diversity
2. Living your purpose
3. Free learning opportunities
4. Learning By Doing
5. Curiosity
6. Experimentation
7. Community Living
8. Silence
9. Self-Discovery
10. Meaningful work
11. Non hierarchical
12. collaboration
13. Peer to peer learning
14. Lifelong learning
15. Community Service
16. Nature
17. Beauty
18. Art
19. Matrimandir
20. Universal Culture
21. Global citizenship
22. Self expression
23. Sri Aurobindo & The Mother
24. The Dream
25. Aspiration
26. Brotherhood
27. Intuition
28. Addressing Global Challenges
*References
1. https://confluence.auroville.org
2. https://www.slideshare.net/AiyanaGunjan1/semiotics-of-auroville-by-aiyana-gunjan
3. https://thebridge.auroville.org/
Love and regards,
Avinash, Divyanshi, Hiteshree, Lalit, Manoj, Mahesh, Sakshi, Siddharth, Siddharth, Valentine